When it comes to things like Father's Day or my Dad's birthday, I basically have two choices for gifts that I can get him. I can buy him something to eat like nuts or candy, or I can get him tickets to see the Rockies play at Coors Field. We've joked over the years that it's not even worth buying him anything else unless we tape the receipt to the box because he will return it. He is truly a man of mystery in the world of gifts.
This year I decided I'd like to step up my game and make him something to eat. After all, I do fancy myself a food blogger.
I don't think he reads my posts so I'm safe sharing my secret here. If you are reading this, StuPop, Happy Father's Day! I hope you love your gift.
I love going to the farmer's market in my town on Sunday mornings. Something about walking around the city, grabbing delicious fruits and veggies from the farmers themselves or trying out a new local product makes me one happy lady. The farmer's market we go to recently added a stand where you can buy really high quality beef. Even though my heart still belongs to the farm in Louisville I mention so often, we decided to give this company a shot and bought ourselves the biggest NY strip that money can buy. Let me tell you this, we were NOT sorry.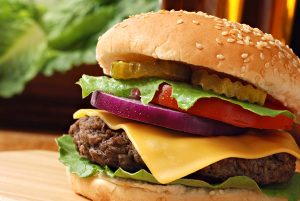 Anyway, that got me thinking about other things I'd like to grill this summer which lead me straight to burger town, naturally. It can be tricky to find premade patties that aren't full of fillers, coloring, or nasty binders. I generally make my own patties to toss on the grill but also don't love mushing up ground beef with my hands.
I promise this story is going somewhere, stick with me here! So, now that I have a a few local resources for beef I can go straight to them for my delicious patties that I know won't have any nasty ingredients. That whole thought process has lead me here.
I do have some brands of condiments that I love and will continue to use, but spicy pickles are not one of them. Sure there are options out there that don't contain additives or loads of sugar, but they sure have a hefty price tag.
So, there I was, standing at the farmer's market with a whole bag full of fresh veggies in one hand and ground beef in the other and hit it me like a sand truck! Spicy pickles! I can totally make my own pickles. My Dad looooooves spicy pickles and spicy food in general. It was a serendipitous occasion that lead me to create the perfect pickle to top your burgers, sandwiches, and even salads all summer.
I made a phone call straight away to my Father-in-law who is one of the best when it comes to canning and pickling. He gave me a few secret tips and told me to just go for it and try out what sounds good. I did just that!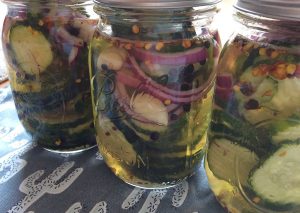 I do realize that not everyone likes spicy food. But not everyone is StuPop and I made this recipe for spicy pickles just for him. If you want to make a milder pickle, I'd recommend skipping the red pepper flakes and/or the habanero pepper. If you go that route, just add a few stalks of fresh dill and some mustard seed to ensure you don't end up with something bland and find yourself in a pickle (Ha! See what I did there?)
These spicy pickles are perfect as a gift for Dad or any foodie in your life. You can skip the boring bottle of red wine the next time you need a hostess gift and bring them a jar of the good stuff. Or, make a jumbo batch for yourself to keep in the fridge, to show off your culinary skills at your next dinner party, or give them to your boss when you need to ask for a week off (this scenario will be tested in the near future).
Click Here To Download Your Very Own – Pickle Jar Gift Tag – Specially Designed  by The FruGal and #ChefJosh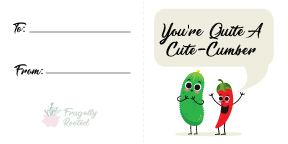 No need to figure out how to can these bad boys or sterilize your jar (though a clean jar is ideal). Since they will be pickling in the low temps of the fridge, we don't need to take any fancy steps here. This recipe can truly be executed in about 10 minutes!
Spicy Refrigerator Pickle Chips
Type: Condiment, Paleo**
Prep Time: 10 minutes
**Each batch will yield one 12 oz jar of pickles. I made 3 batches at once and still spend about 10 minutes total getting them prepped.
Ingredients:
1 medium or 2 small cucumbers sliced as chips or spears

¼ cup filtered water

¼ apple cider vinegar

½ cup distilled white vinegar

3 smashed garlic cloves

¼ small red onion sliced in rings

½-1 habanero or serano pepper

1 tablespoon whole peppercorns

1 tablespoon coconut sugar (for Paleo**) or white sugar

½ tablespoon red pepper flakes

½ teaspoon coarse sea salt
Directions:
Wash pickles and remove tops/stems. Slice pickles in spears or chips using a sharp knife or mandolin. Quarter habanero pepper and remove membrane. Add ½ of the pickles to a clean glass jar with a lid. Add remaining ingredients and top with reserved ½ of the pickles. Shake jar to combine and store in the fridge sealed. Pickles will be ready to eat in 48 hours but can be stored in the fridge for several weeks. Shake to combine if any settling occurs. Refill jar with vinegar mixture as needed.