Planning our trip to Iceland started almost a year before we actually got to go. Josh and I like to save for one big trip per year. Josh was the first to mention his desire to see Iceland for a number of reasons including their reputation for having excellent antique stores (which we never really found). We planned our trip for July since I would be off work for Summer break and Josh would have enough time to get his business in a position where he could walk away for a week or two.
Saving for the Trip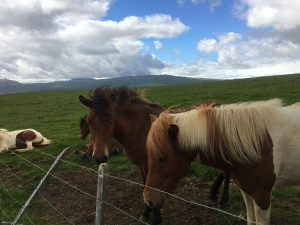 Anytime Josh and I plan to take a pricey trip, we have a few saving methods that help us reach our goal. We've saved this way for trips to Jamaica, the Pacific Northwest, and Canada. Every time either of has a $5 bill, we put it in a bag in my closet towards the vacation fund. We literally saved for Jamaica using this method alone. However, after months of only saving $5 bills, we eventually started tossing bigger bills into the bag.
As a more savvy way of saving we also use several apps that help us save a few dollars each day. Here are some of our favorites:
Ibotta: I use this app to save an average of $20 a month on groceries. Hey! It adds up!
Acorns: This app rounds up each purchase to the next dollar and invests that lump sum once it reaches $5. I also contribute $15 every Friday that is automatically drafted from my checking account.
Digit: Digit analyzes your daily spending habits and automatically stashes away a small amount (up to a few dollars) each day.
If you're interested in getting set up with any of these apps, comment on this post or reach out to me directly at TheFruGal@frugallyrooted.com for a promo code to kick off your savings!
Transportation and Accommodations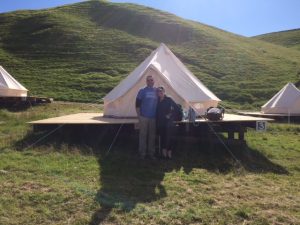 We flew directly from Denver to Keflavik Airport for under $600 each roundtrip. The flight itself was a little over 7 hours but since Iceland is 6 hours ahead, we lost an entire night, essentially. Luckily, we were so excited to finally be in Iceland, the Jet lag didn't hit us for several hours (though it eventually did).
From the airport, we took a shuttle to downtown Reykjavik where we were staying. We rented this fantastic Air BnB right off the main street in downtown for about $105 a night. This option was a great location with plenty of space and a fraction of the cost of a hotel.
We rented a car four days into our stay in Iceland through Thrifty. We did spring for additional insurance on our car as we heard lots of horror stories about paying hefty fees after getting a small chip or dent in the car. Iceland has notoriously rough roads, so even though we didn't need the extra coverage, it was worth it. We did end up with a fuel-efficient car, the Citroen Cactus which also helped save on gas. This was especially helpful given that a gallon of gas in Iceland is about $8.
One night of our trip, during our South Coast tour, we stayed in a yurt near the ocean. This was hands down one of my favorite experiences in Iceland. We fell asleep under heavy wool blankets (keep in mind, Iceland is COLD) and the sound of sheep grazing outside our yurt.
The Food and Our Top Recommendations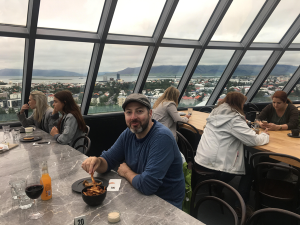 The food scene in Iceland is certainly eclectic. Reykjavik has a bit of a foodie scene with some oldie but goodie type places and some tourist traps alike. I did A LOT of research on the restaurants and food options before we went as one of my favorite parts of any trip is the food! Duh.
We found that outside of Reykjavik, and outside of the 9:00am to 9:00pm window, food was generally tough to come by. Our time outside of the city consisted of a few gas station meals, which were actually quite impressive, and some snacking on items I brought from home. Special shout out to Chomps, Trader Joes, RX bar, and Perfect Bar for getting us through some long stretches of road with no food in sight.
Some of our most favorite places to eat in Iceland were:
Islenski Barrinn: this traditional pub-style restaurant was a recommendation from another blogger. I decided to pay the hefty fee here for the traditional and famous Icelandic lamb, and boy was it worth it!
Sushi Social: Sushi Social was funky and fantastic and should absolutely be on any foodie's must-do list. We went on "tiki night" which meant the place was hopping, drinks were being served in coconuts. We had life-changing korean ribs and the freshest salmon I've ever tasted. This was our most expensive meal of Iceland (or maybe ever) but we had an awesome evening.
Block Burger: Beef in Iceland is fresher and tastes like an almost entirely different product. If you're in the mood for a burger while in Iceland, look for the pink sign and make it a double!
Braud & Co.- This bakery has a reputation of being the best in the country and it certainly did not disappoint. We loved the cinnamon rolls and the vanilla bean danish. Worth. Every. Calorie.
Baejarins Bestu Pyslur: Try saying that three times fast. This is the iconic hot dog stand that serves up lamb hotdogs for under $5 a pop. Totally delicious! Get all the sauces and fried onions for a real treat!
Hlemmer Matthol: Our first night in Iceland we walked miles and miles to find a less touristy yet trendy joint. We found this gem, Iceland's first restaurant collective and we totally enjoyed our cod, potatoes, and beef.
Skyr Gerdinn: We stumbled upon this little cafe/hotel after our long hike to Reykjadaller. We were chilly and starving and the lobster soup and sourdough bread could not have been more perfect.
Bonus: To save some dough on the incredibly expensive food prices in Iceland, we frequented Bonus for some grocery staples. We picked up eggs, skyr (Icelandic yogurt) fruit, coffee, and some meats and cheeses to get us through the day.
A Few Highlights
I could write a separate post on each jaw dropping scene we stumbled upon in Iceland. We saw endless waterfalls, lava fields, and grass so green it hurts your eyes to look at. While Iceland has become a huge tourist hub since 2009, it still feels untouched for the most part.
Most sites are free so we did not end up spending much money outside of our vehicle cost to see many of the fantastic places Iceland has to offer.
We drive hundreds of miles along the south coast to eventually get to the glacier lagoon at Jokulsarlon. This was absolutely my favorite place on the trip. The black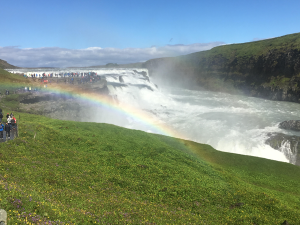 sand beaches of Jokulsarlon serve as a breathtaking backdrop for the hundreds of icebergs that wash ashore. The crystal clear and blue ice was something I'll never forget.
Another favorite was Gullfoss along the Golden Circle. The power and size of this waterfall is not something that can be explained in words. We were lucky enough to see the falls during a sunny day and even got to see a big rainbow over the falls.
Skogafoss and Seljalandsfoss were two other incredible falls we saw on the South coast. The entire drive along the ring road was filled with stunning falls and adorable villages.
We did one longer hike in Iceland, to the Reykjadaller Geothermal River. We were told this was an easy hike that would allow us to enjoy soaking in the natural hot spring river. It was half of those things. This hike ended up being longer and harder than we bargained for, but it was beautiful and jumping into a toasty river was worth the trek.
Josh and I went on a midnight whale watch out of Reykjavik. Since it is light out about 23.5 hours of the day, we were able to do some touring without trying to cram it in during daylight. This cruise out of the harbor lead us to a family of humpback whales, the most insane sunset we've ever seen, and gorgeous views of the West Fjords.
Perlan is a hidden gem just outside of downtown Reykjavik. It's a museum and cafe that is open to the public and free to get in. We skipped the museum portion and just enjoyed the 360 degree views from the cafe. They had the very best chocolate chip cookie ever. They also offer a free shuttle from Harpa, the concert hall in the city. Harpa features amazing architecture modeled to look like the Northern Lights. I highly recommend going inside even if you're not there to see a show.
What We'd Do Differently
If we were to do our Iceland trip all over again, there are just a few changes we'd make. We did love the charm and beauty of Reykjavik, but four days was about two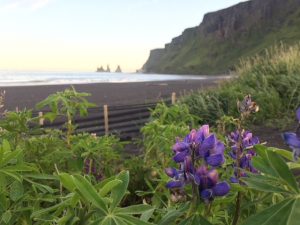 days too many there. Next time, we'll get a car at the airport and plan to travel the ring road. Although we loved our Reykjavik apartment, if we had booked several places around the country we would have been able to see more of it. The recommendation to see the entire ring road tour is 8 or more days.
Summary of My Top Travel Savings Tips
There are lots of ways to save for vacations and ways to bank a few bucks while you're there. We chose in  to indulge in a few splurges like my Icelandic wool blanket I brought home, the $40 for coffee and a pastry for two and some of our dinners, but that's not mandatory to enjoy your time in Iceland.
Here are a few of my top tips:
Use the apps I mentioned above to save money before you go

Pack some snacks and staples from home like nut butters, bars, meat sticks and trail mix

Borrow any specific gear you may need (I borrowed outlet adaptors, waterproof pants, and waterproof bags) instead of buying them and using them once

Look for happy hours and meal deals! We went to a few happy hours and found drinks to be half the price that they would be at dinner time

Skip the three meals a day mentality. We ate a bigger breakfast/brunch and dinner and snacked on our grocery items in between

Look for last minute deals. We scored a whale watching tour at a steep discount for going later in the evening and booking the day before. Lots of tour companies have similar deals available

Skip the fancy tours and arm yourself with lots of knowledge before you go! You can see all the sites on your own with more freedom and less spending

Rent books from your local library on your destination instead of buying them. I rented 5 or 6 and packed the 1 I thought had the most information (and a map!)

Call your credit card company ahead of time and ask them to waive the international transaction fee. Chase was happy to do so for us and we scored lots of airline points.