Summer is officially here which means the margaritas are flowing, the smell of fresh-cut grass is in the air, and the chances that I'm wearing makeup are slim. I've gotten in the habit of writing a "Favorite Things" post for each season and I can't believe it's already time to share my Summer must-haves!!
It is harder than I think each time I write a Favorites Things post to narrow it down to just 10 items. I am constantly trying new brands and finding new products I can't live without.
From keeping things cool, to fueling your gut, to looking superfly, this post is chock full of goodness! I can't wait to hear which are already on your favorite list and what you're excited to try next from this list of Summer must-haves.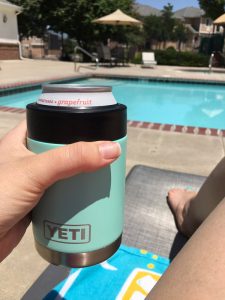 You can visit my shop page for your shopping convenience or click on each product for a link to where I bought mine!
Yeti Can Colster– This simple gadget has seriously changed the beverage game. Anytime I drink a Spindrift or LaCroix I slap this sucker on by twisting off the top, dropping the can in and re-sealing. The Yeti Colster will keep any canned beverage ice cold even in hot summer temps. I spend a lot of time at my pool in the summer and having this around has kept me hydrated and happy! I conducted a little experiment and the Colster kept my drink cold for almost 2 hours in a very hot car!
Spindrift- Speaking of keeping beverages cool, I have recently entered a full-blown love affair with Spindrift. Spindrift has the simplest of ingredients (just carbonated water and fruit)! They have lots of outstanding flavors including my personal favorites, grapefruit, raspberry lime, cucumber. It's got a much fruitier flavor than other sparkling beverages and contains no "natural ingredients." (refer to my post on natural flavors in ice cream if you're not sure what my beef is with natural flavorings)
DoTerra Peppermint Essential Oil– If you read my post of essential oils, you'll know how much I love peppermint oil. My favorite summer hack to using peppermint oil is to rub a few drops of peppermint combined with coconut oil onto my neck and shoulders before bed. This combo packs a cooling sensation as well as a relaxing sense of calm and stress release.
Jackson's Honest Chips– Potato chips are my kryptonite, also known as my food without breaks. I can eat an entire bag of chips in one sitting without noticing if I'm not careful. I don't always keep chips in the house for that reason, but when I do it's almost always Jackson's Honest Chips. They're small batch kettle cooked potato chips with minimal ingredients and made right here in Colorado. The very best flavor is hands down the Apple Cider Vinegar chips. I can't get enough!
Health-Ade Kombucha– Not long ago I finally threw in the towel on making my own kombucha. It's not hard to do, but it never turns out as good as the store-bought stuff. I know lots of people that are successfully making kombucha (I'm looking at you, Annie), but I do not possess the quality that makes me a good kombucha brewer. My most favorite brand right now is Health-Ade! They have tons of interesting flavors like kiwi-jalapeno-cucumber and pink lady apple. I find their booch to also be more fizzy than others and not overly sweet! A little FruGal hack of mine is to use their kombucha as a base for cocktails like margaritas or moscow mules. Can't beat a boochy beverage on a hot day!
Alba Very- Emollient Maximum Hydration Lotion– I have tried dozens of non-toxic body lotions on my hunt for the perfect one. Alba has managed to create a lotion that doesn't contain harsh chemicals like  parabens or phthalates, smells exactly like the blooming trees outside my Hawaii apartment, and that actually hydrates the skin! I can't get enough of this stuff and slather it on after a hot shower or a day at the pool.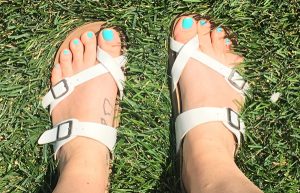 Strappy "Leather" Sandals– I know I'm about 40 years behind here but I have just discovered how amazing strappy leather sandals are. Gone are the days of rubber straps digging into my foot or sliding around on the pool deck in flip flops. Leather sandals will take on the shape of your foot overtime giving you more support and a more comfortable wear. There are lots of brands available, but these are my favorite! Try them out!
Chomps– I might be the pickiest beef jerky and dried meat eater on the planet. I really want to like meat snacks but most of the time I think they taste like sucking on a penny. Chomps beef and turkey sticks are the only ones I'll buy these days. They are Whole30 approved, are made using Grass-Fed beef and don't contain any nasty preservatives (that taste like pennies). I like the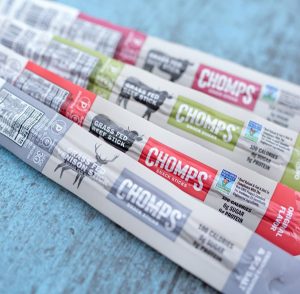 original flavor best, but will mix it up every now and then with a jalapeno kick.
Air Fryer- I cannot live without my air fryer year round, but it comes  in handy especially in the summer months. Most days it is too hot to fire up the oven or stove and my air fryer is the perfect solution. I can fire up crispy potatoes, perfectly crisp chicken wings, homemade tortilla chips, or roast bacon in half the time of the oven and practically no preheat time.
FitBit Charge 2– Again, I know I am behind the times, but I just love my new FitBit! One of my besties was kind enough to pass along this sweet little technology to me and I haven't taken it off since. I love having the ability to monitor my heart rate during workouts, track my sleep habits, and get the subtle kick in the pants (or wrist buzz) when I need to get moving. These days you can get fashionable bands to match every outfit too! There are tons of options on the market when it comes to tricked out pedometers so pick one that's right for you. 
Let me know in the comments what products, brands, apps, or gadgets you nominate to make the Fall Favorites list on what's on your Summer must-haves! I love to hear from my tribe on what you're loving lately.