It's February! How did this even happen? Every month or possibly every other month I plan to throw out some neato products, companies, restaurants, etc I'd recommend for anyone working towards a cleaner and healthier way of living or anyone that likes hearing about stuff that's worth your hard earned dollars.  I am not sponsored or paid by any of the below mentioned companies (though, I wouldn't turn that idea down amiriiiight?!)
I also want to make clear that I have not tried every brand or version of the products below so I cannot justifiably offer a comparison,  nor am I in the business of putting anyone down for their products.
I will mention if I have tried other versions that I did not like but I will not mention the brand name. Brands work really hard to get their products on the shelf and I don't want to swoop in and be a jerk just because of my opinion.
Every Friday I post my #FavoriteThingsFriday on Instagram. Scope those out for more frequent posts about products I love. This is my very first "favorite things" post, so I could probably take up the next 8 hours of your life, but I'll keep it to a top 5. Here goes.
1. Nutpods– Ever since my first round of Whole30, I have not known a morning without Nutpods, and I never want to. My favorite is the French Vanilla. The pumpkin spice was pretty rad but I've got my fingers crossed for a peppermint mocha situation on deck at Nutpods HQ. Nutpods adds a little creaminess to your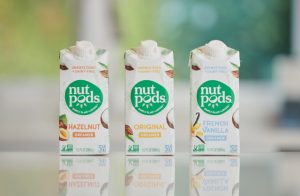 coffee without the sugary gut punch. There are other compliant creamers out there but Nutpods gets the gold for me. I've used a splash in soups, sauces, and matcha as well. If you are using creamer in your coffee now, I challenge you to take a peek at the ingredients. If you're seeing anything along the lines of cane sugar, anything that ends in "ose," hydrogenated anything, artificial flavors, anything that ends in "tate," or corn syrup, run for the hills (or a grocery store) and get your hands on some Nutpods.
 2. Siete Family Foods Chips & Tortillas– Siete really hit it out of the park on this one! They make grain free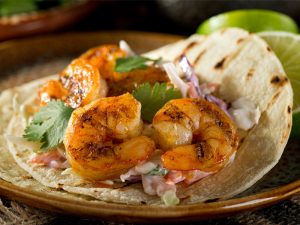 tortillas in three flavors; sea salt, lime, and nacho. My personal favorite is the lime flavor. I actually like these chips a whole lot better than the corn-based stuff. They only use real ingredients and are all gluten and dairy free. They also sell three types of grain free tortillas that will knock your socks off; almond flour, coconut and cassava, and cassava and chia. I recently used the coconut and cassava ones to make chicken enchiladas that were on point! This company is also family-owned and operated and have a beautiful story. They were kind enough to send me lots of their goodies for free, but I absolutely spend my own money on their goodies too! Totally worth it.
3. Sports Research Collagen– I know I've been running my yap since day one on collagen. But, this one is a Game. Changer. I started adding collagen to my coffee about six months ago. For those that are concerned about their coffee tasting like a burger, collagen is odorless and tasteless. Collagen has had the single greatest impact on my skin and hair health. The most common questions I get on my Instagram page are about collagen. Here's a little breakdown of why I think everyone should be adding this powdered goodness to their coffee: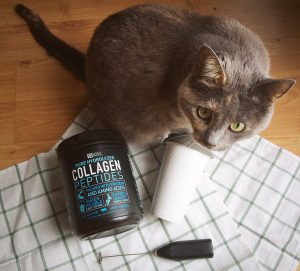 Collagen is the most abundant protein in our bodies and are responsible for the health and vitality of our gut, skin, hair and nails.
Peptides are the small molecules of collagen that are easily absorbed
Taking collagen daily (yes, it has to be daily) has cleared up my acne-prone skin, helped my hair grow faster and stronger, makes my nails less brittle, and helps with chronic joint pain.
There are many brands out there that offer high-quality collagen, but it is imperative to find a brand that uses grass-fed beef. I recently heard that the old saying "we are what we eat" is not true. Rather, we are what we eat eats.  I like the price point on the Sports Research brand and it blends well into my iced coffee using an immersion blender. Speaking of blenders…
4. Cuisinart Immersion Blender– I use this handy little gadget on the daily. I use it every morning to froth up my collagen a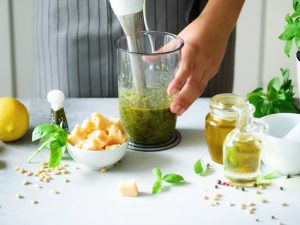 nd MCT oil iced coffee. I also use it to make sauces, dressings, and mayo weekly. I think this is my most favorite appliance. I got this little guy using the grocery stamps you collect for spending money at the store. Yes, I'm that girl. That was at least 5 years ago (probably more) and it still runs like a champ. You can find lots of models on Amazon or discount stores like Home Goods. I find that if I make blender ranch or mayo it only gets that thick consistency if I use my immersion blender (as opposed to a food processor or standard blender)
5. Instagram– I have to shout out the responsible party for the birth of Frugally Rooted. When I decided to take on a cleaner lifestyle and pursue authentic health, I turned to Instagram. Duh. I am a millennial after all. Watching some of my favorite bloggers on Instagram stories has taught me so much! From making freezer fudge, to how to blend oil and egg to make perfect mayo or makeup tutorials, the information out there is endless! Find some awesome people out there and you'll learn a wealth of knowledge in any subject. You can now follow hashtags on Instagram as well, giving you a greater opportunity to discover grammers that have information to offer that you're interested in. Some of my favorite accounts to follow include MelissasFoodFreedom, SimpleEasyWhole, PaleOMG, DanikaBrysha, and LeeFromAmerica.
These are just a few of my favorite things as of late. I pinky promise to only recommend products to my lovely readers that I spend my own money on, have tried numerous times, and stand behind wholeheartedly. With that said, I love to hear what everyone out there is loving or thoughts on what the products I recommend. Leave me a comment and tell me what your favorites are and what I should try next!
-The FruGal