A few months ago I posted 5 of my favorite things at the time. I heard back from readers that they loved the post and have become lovers of some of the things on my list as a result. Since my purpose is to share wellness tips and tricks here, I decided to keep the "favorite things posts" in regular rotation to share what I'm loving in the moment.  
I'll be posting 10 of my favorite foods, products, apps, business, etc each season. I am always searching for new things to love that contribute to my own wellness and passing those finds onto you! Let me know in the comments what you're loving right now so I can give it a try! 
My 10 favorite things for Spring 2018 are….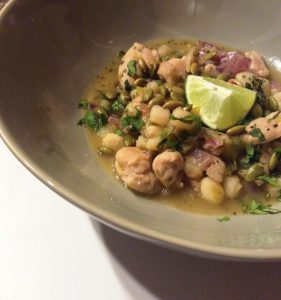 1. Meal Kits- If you follow me on Instagram (and I love those of you that do!), you know I've been trying out meal delivery kits and sharing my experience in stories. I plan to write a more comprehensive review a little later down the line, but I have to say that I'm loving the concept! I do love to cook and dream up new recipes, but the fact that I can come home from work and know that I have all the ingredients and recipes for a delicious dinner is pretty clutch. Meal kits take away the stress inducing question "what should we have for dinner?" You do pay for convenience and shipping, so it's not something I'd do every week. There are tons of options out there to fit almost any dietary plan and family size. The one piece of advice I'll share now is that you can find promo codes for almost any meal kit if you google it. Most companies offer a steep discount if you're first time customer.
2. Breakfast Salads- One of my favorite breakfast food is simply dressed arugula. Yes, you read that right. Arugula. I love incorporating greens into my morning meal.
It keeps me full until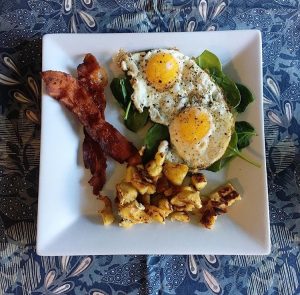 lunch and helps me get in my vitamins and minerals bright and early. Leafy greens are some of the most nutrient-dense food groups out there.  Spring is the perfect time to try out the green breakfast trend. Start with a base of greens, dressed lightly with olive oil, coarse sea salt, and vinegar (I am currently loving apricot infused white vinegar) and top with a protein and fat combo. The possibilities are endless, but to me a runny egg and crispy bacon is clutch in the breakfast salad setup.
3. Weighted Blanket– Awhile ago I purchased a weighted blanket on Kickstarter. As a special educator, I am familiar with the calming effects of compression and weight for kiddos, but I had not tried using the same theory on myself! My blanket weighs about 20 pounds and has real stress and anxiety relieving effects. I love to snuggle up with a cup of tea and a good book or the Insight Timer meditation app  for just 10 minutes a day. This small act of self care is an efficient way to calm the nervous system and quiet the mind in one swoop. If you want to read up more on how ccompression and weighted blankets work their magic, you can hop on over here
5. Hydroflask– I've been a long time user of Hydroflask water bottles. I can fill my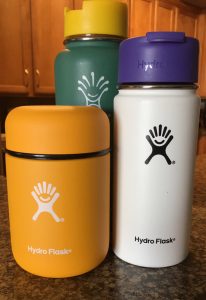 bottle with ice water in the morning and it will stay cold all day long, even if I leave it in my hot car. But, the real game changer for me has been their food storage products. On busy weekday mornings I love having a healthy breakfast I can take on the go. I've been whipping up smoothie bowls lately as the weather warms up and something refreshing in necessary. I can make a smoothie bowl at night and pack all the goodness into my food storage flask and freeze overnight. I know by the time I'm ready to eat (sometimes a few hours later), my smoothie will still be ice cold. These bad boys work for cold and hot items. You can also use these bad boys to keep soups and stews toasty well into the lunchtime hour.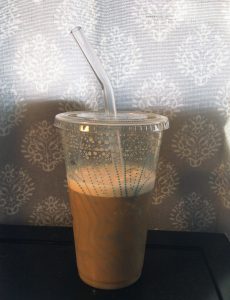 6. Glass Straws- Did you know that every plastic straw you've ever used will stay on this planet forever? There is a huge issue of plastic pollution in our oceans. Straws do not biodegrade and are harmful to sea life. You can spend less than $10 and make a big difference. I love these glass straws! They're reusable, easy to clean, and don't get gunked up like traditional reusable plastic straws. Even if you're going to snag a drive-thru coffee or smoothie, refuse the straw and bring your own. Bonus points if you bring your own cup too.
7. Perfect Bars- Another staple in our house is Perfect Bars. Every one of these bars is so tasty and are great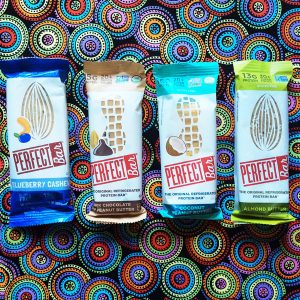 as a car breakfast or a midday snack. They have lots of delicious flavors like blueberry cashew (my favorite), chocolate walnut brownie, maple almond, and coconut almond (Whole30 compliant!) to name a few. Perfect Bars have ingredients you can pronounce, are gluten free, and pack protein and fiber to keep you full! Perfect Bar is a family-owned and operated company with a pretty cool story behind the brand. You can find rebates for Perfect Bars on the Ibotta app pretty frequently.
4. Abby's Better Nut Butter- I am all about finding delicious foods with minimal ingredients but I love a product even more when the story behind the brand is special. Abby's Better Butter was started by Abby at just 15 years old! She has cranked out some delicious flavors of nut butter without adding chemicals, artificial sweeteners or weird gums. When I ordered my first jar I was so impressed that it came with a handwritten thank you note and an adorable sticker. My current favorite snack is the pecan butter drizzled over sliced apples. I've got my eye on the cashew coconut butter next! Check out Abby's goodies here.
8. Vitamin C Face Serum- A few drops of Vitamin C on my skin day and night under my moisturizer has made a huge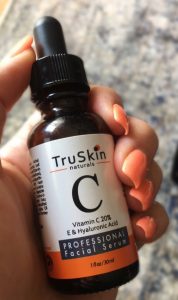 difference in the appearance of my skin! Just a dab will do ya with this powerful antioxidant. Vitamin C serum has been shown to reduce the appearance of fine lines and wrinkles, protect against harmful UVA and UVB rays, and stimulates collagen production. There are tons of Vitamin C serums on the market and most also contain hyaluronic acid which plumps and moisturizes the skin. This is the one I use.
9. Hiking- I've been gradually introducing exercise into my world after recovering from a back injury (see previous post on chronic pain). I've never been a person that loves being in the gym even if I've gone through periods of liking it. I think it's important to find a way to move your body in a way that feels like a celebration of what you can accomplish and not a punishment for eating. Exercise shouldn't and doesn't have to feel like a chore. Recently, I've been rediscovering the great outdoors with a one of my best friends, Lindsey. We've been planning Sunday hikes in places around the Denver area. Sometimes we get so caught up in the grind that we forget to enjoy our surroundings. Hiking has been an awesome way to get in healthy movement while chatting with a friend and it's totally free! My favorite kind of exercising.
10. PoshMark– I
have a serious addiction to online shopping (who doesn't?) and an even stronger love for saving money on great products. PoshMark is an online second-hand store. You can buy and sell gently used or new clothing items and accessories for a fraction of the ticket price. Spring is the perfect time to clean out your closet and get rid of underused or neglected items (I'm looking at you, sequin rainbow flats). I got a Patagonia pullover fleece for under $50 that's been worn once and a sweater from Stitch Fix with the tags on for just $11!! Check out PoshMark today, but be forewarned it can be hard to walk away once you see the stellar deals you can find.