One of my favorite things to do is to recreate foods that I love and make healthier homemade versions of them. Growing up, peanut butter cups were one of my favorite candies. Recently, I was on the hunt for a healthier option. While I found some that were a little healthier, everything on the shelves contained some form of sugar and none of them had much protein in them. If you haven't heard my collagen soapbox, scope out my "February Favorites" post. Adding collagen isn't necessary for these bad boys to taste good, but they do add an element of healthy protein not to mention the health benefits of including collagen in your diet.
Using coconut oil in this recipe adds to the creamy and decadent texture. While some may cringe at the thought of eating oil, or any healthy fat for that matter, fear not! Each AB&J cup contains less than a tablespoon of oil. Coconut oil has excellent health benefits including boosting healthy cholesterol levels, increased nail and hair strength, and may help increase immunity. Because healthy fats are more calorie dense, it is hard to eat an entire bag of these bad boys at once. One or two cups will satisfy your hunger pang.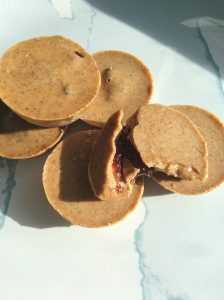 While I don't eat sweets everyday, sometimes I need a little treat. Even though these cups contain zero added sugar, the sweet jelly makes them feel like dessert. You can swap almond butter for other nut butters if you'd like, but I think almond butter works best. With just 4 ingredients and 5 minutes of prep, it's hard to go wrong!
Almond Butter and Jelly Cups
Servings: 18 small cups or 12 large cups
Meal Type: Snack or dessert
Prep time: 5 minutes Total time: 20 minutes

Ingredients:
½ cup high quality coconut oil (I like the Thrive Market brand)
½ cup of unsweetened almond butter (read your labels- the only ingredient should be almonds and maybe salt)
2 tablespoons collagen peptides (I use Sports Research)
¼ cup no sugar added jelly or jam (I use the Trader Joe's mixed fruit flavor)
Directions:
Combine the almond butter and coconut oil in a ceramic or glass cup or bowl. I like to use a measuring cup with a spout for easy pouring.
Microwave for 30 seconds (you may need an additional 15 seconds depending on power level) or heat on the stove using a double boiler until coconut oil is melted
Immediately add collagen and stir to combine
Place silicone mini muffin mold on a baking sheet for easy transport
Pour mixture into silicone mini muffin molds filling ⅓ of the way up (If you're not using silicone, use liners to prevent sticking)
Place AB&J cups into the freezer for 5 minutes or until slightly firm
Remove from freezer and use a small spoon to put a about a teaspoon of jelly on top creating layers
Pour remaining almond butter "batter" on top covering the jelly layer
Freeze for another 10 minutes
Remove from molds and store in an airtight container for up to a month.
Allow cups to thaw on the counter for 5-10 minutes before enjoying.
If you'd like to make these sweeter you could add a tablespoon of honey or maple syrup, but I recommend trying it first without. You'll be surprised how sweet they taste. It's best to eat these bad boys about 5 minutes after they come out of the freezer. Try making them as a quick dessert, an after school snack, or a quick pre-workout bite. If you make my AB&J cups, let me know what you think!