Two and a half years ago, I started a little book club in my new (at the time) town. I wanted to get to know some ladies in my community and also had a New Year's resolution to read more. Since then, I have become friends with a wonderful group of ladies that loves to get together each month, have an adult beverage or two, snack on some goodies and occasionally talk about books.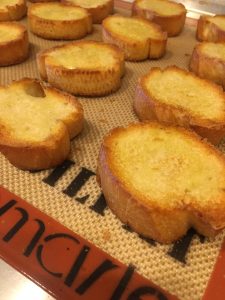 After two and a half years, we decided it was time to get together with our families in tow. I volunteered to make an appetizer and was thinking I'd either make my "famous" peach guacamole or prosciutto and melon. I clearly had fruit on the brain. When I went to Lucky's Market this morning the melons didn't seem super ripe and the avocados were hard as rocks. Doing what I do best in the kitchen (and the grocery store), I improvised and came up with a happy accident. 
If you follow me on Instagram you may have seen me make this recipe today. A big part of why I started this blog was my love for cooking and my inability to follow recipes as they are written. For me, browsing recipes on Pinterest and Instagram are more about inspiration for me. I love nothing more than to think about pairing flavors and textures and coming up with something new, or tweaking another recipe to make it my own. Another aspect I love is using what's in season. If you're not from Colorado you may not know we have some of the best peaches around in the summer.
So, after a few laps around Lucky's and a number of ideas, I dreamed up these refreshing and summery peach basil crostinis. They were book club approved and I think they'll be in a regular circuit in my household as well. I hope you enjoy this one! 
Summer Peach Basil Crostini
Type: appetizer
Active time: 20 minutes
Makes: 20-30 pieces
Ingredients:
1 high-quality baguette, sliced

⅔ cup full-fat ricotta cheese or Kite Hill ricotta for dairy free

3 tablespoons fresh basil, chopped

2 tablespoons honey

1 large or 2 small peaches, sliced

3 tablespoons olive oil

Flaky sea salt (optional)

¼ cup balsamic vinegar
Directions:
Slice baguette into ½ inch slices and lay out on a baking sheet with parchment paper or silicone baking mat

Brush one side of the bread slices with olive oil

Broil on low for 2-3 minutes or until golden

Flip crostini and oil the other side, return to the oven for an additional 2-3 minutes

Allow to cool completely (about 10 minutes)

In a bowl, combine ricotta, basil, and honey

Once cooled, spread about ½-1  tablespoon of the mixture onto each crostini

Top with thinly sliced peach 

Pour the vinegar in a small pot and cook on medium-low on the stove top until bubbly and thick (about 5 minutes)

Reduce heat to low/warm and stir

Drizzle balsamic reduction on crostini using a spoon or fork

Sprinkle with sea salt (optional)