I used to think that anyone that did their grocery shopping at more than one store was nuts. Why drive around town to get specific items when every grocery store had everything on my list? That was also a time when I had chronic heartburn, was significantly overweight, had skin issues, and was generally less healthy.
I'm not saying that you can't stick to your old faithful and make your one-stop-shop work for you, but I have gotten so many requests to create lists for specific stores with what I buy on the regular. I have learned so much about nutrition and sourcing of the foods I eat, and truth be told, I can't get everything I want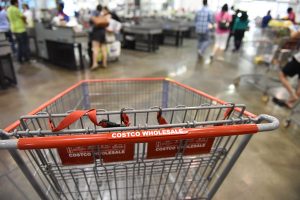 in one stop. I'm also the FruGal, so I will make multiple stops if I snag a sweet coupon or know of deals going on. Every dollar counts right?
I do most of my shopping at Sprouts and Whole Food but I also have a list of Costco finds and also pop into Natural Grocers, a local farm, Thrive Market, and King Soopers (Kroger) now and then. My plan is to create shopping lists for each of those stores with the products I stand behind. That certainly doesn't mean you have to run out and buy them. Rather, take this list as a guideline or maybe try something new on the list you've never had. You may just find a new product to love or spend some time reading labels of things you purchase now.
Right after Josh and I got married ago, almost two years ago, we returned from the honeymoon and did exactly what every married couple must do. We got a Costco membership.
My Costco card is actually the first photo ID of me with my married last name. Even though there is a yearly membership fee to take part in the savings, I think it's worth it. I recently saw that Costco offers deals on memberships for teachers, veterans, and and other public service employees! How cool is that?!
Here are some things I keep in regular rotation in my household and some things I skip:
Produce
You really can't go wrong with produce at Costco (or any store). I have a general rule that if I'm going to eat the outside or the skin of a fruit or vegetable, like apples, berries, and lettuce, I do my best to choose organic. I used to roll my eyes at the organic grocery buyers, but the more I learned about the shit that's sprayed on plants to preserve them, the more I was willing to spend an extra dollar to skip the nasties.
You can also refer to this list to choose which items to buy organic if you'd rather pick and choose than commit full force.
Some of the best buys in terms of price point include organic lettuces including spinach, kale, and romaine. Berries are often on sale at Costco and you can snag a giant bag of broccoli, brussel sprouts, or avocados for less than at other stores. I don't recommend buying pre-cut vegetable or fruit trays because you're paying more for convenience than the product itself. Do your own chopping to save a few bucks.
Beverages
Since I fall into the millennial cohort, I am required to have an addiction to sparkling water. You can buy a palate of La Croix  for just $7.99. Also, right now (through June 17) you can get 30 cans of Spindrift at Costco for just over $11. That's a huge discount from buying it at places like Target or Sprouts. 
We also buy our coffee at Costco. We like to buy the organic option of beans and do a coarse ground for perfect cold brew at home. This method costs about $17 for over 100 cups of joe! Can't beat that. Once in a blue moon, I'll snag a box of the Lucky Jack Double Black Nitro Cold Brew Coffee.
It is really tasty but it will make you feel like you downed a barrel of jet fuel. This stuff has a lot more caffeine than a traditional cup, so proceed with caution.
I choose to skip the sports drinks and sodas at Costco for obvious reasons. I don't drink anything with added sugar as a rule of thumb. The glucose spike from these beverages, not to mention the artificial dyes and flavors  just isn't worth it.
Meat and Eggs
I almost always buy my eggs at Costco. They carry organic eggs for $6.49 for 24 of them. That's a significantly lower price than other grocery stores offer. Eggs are another item that I always buy organic. In my house, we go through at least a dozen eggs a week so buying in bulk is a great option.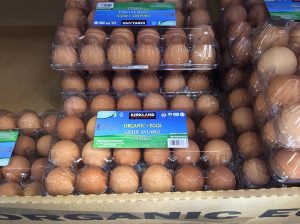 For the most part, I buy our meats from a farm 7th Generation in Louisville. They have unbeatable prices on meats that are sustainably raised and don't include a dose of antibiotics or other garbage. That's a different soapbox though.
There are still a few meats that I do pick up from Costco to store in our deep freeze. I like to buy the organic boneless skinless chicken thighs at Costco. They come in individual packages of two to three thighs and will shave big bucks off of buying your thighs in smaller packages at Whole Foods or Sprouts.
Costco offers great deals on shrimp and other frozen seafood varieties. I do my best to choose wild caught and not farm raised. I also look for options that do not contain dyes (trust me, this happens A LOT).  In a landlocked state, this isn't always easy. Costco isn't my go-to for seafood but I do occasionally find some options that work for my family. If you need any help sifting through the seafood aisle, ask one of the butchers. They have been super helpful in this department for me!
There is also an excellent rotation of slightly more processed meat products like sausages and breakfast links at Costco. For the best products, ch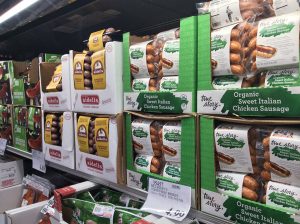 eck your labels and avoid anything you can't pronounce. I like Amy Lu Organic breakfast links as well as Aidell's chicken sausages. Lately, we've been buying Teton Waters Ranch brand meats to toss on the grill. They're a little more pricey but are some of the only dogs and links we can find that don't contain nasty preservatives, thickeners, and gums. True Story is an excellent brand for deli sliced turkey. It's one of the only ones on the shelves that doesn't add carrageenan or nitrates.
Canned tuna is often filled with preservatives and is sourced from some scary scenarios. Costco carries one of my favorite brands, Wild Planet. You get 6 cans for $14.99; a steal compared to other retailers. This tuna is wild caught and you know it as soon as you open the can. Did you know tuna isn't actually supposed to be gray like some other brands? Just ew. Nancy wholeheartedly approves of this brand too.
I will be the first to admit that I was once a weekly buyer of the Costco rotisserie chickens. At just $4.99, you can get so much bang for your buck without the work. I still occasionally purchase a bird in a bind. But, upon further investigation of the ingredients, I have significantly reduced my intake of these chickens. First, they are not organic. They may or may not be treated with hormones to increase their size and may not even have access to the outdoors. A scary scenario at best.
Also, sadly, the ingredient list does include carrageenan. Carrageenan is a thickening agent derived from seaweed. Doesn't sound so bad, right? Wrong. The human body actually cannot digest carrageenan. That means that we pass it through our system without gaining any nutrition from it.
Sauces and Condiments
Sauces and condiments are another category where you can really stretch your dollar by buying in bulk.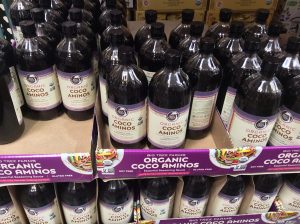 I use coconut aminos in everything from stir frys, salad dressings, and aioli dips. It is also the star of the show in one of my appetizer recipes. My body doesn't love soy, so making the switch from traditional soy sauce made a big difference for me. If you've never used coconut aminos, they can be treated the same way as soy sauce. However, coconut aminos aren't nearly as salty as the soy stuff, so plan accordingly when cooking. Coconut aminos are slightly sweet but taste great in sauces and on sushi. Costco now carries Big Tree Farms brand for just $8.99 and it's a giant bottle that will likely last a year. This is about 70% cheaper than other retailers.
Another pantry staple in our house is Chosen Foods avocado oil. You can get 34 oz for just $9.99! This is a high-quality oil with a higher smoke point than other oils like olive oil. This makes it perfect for the grill. The light taste is also a match made in heaven for making paleo mayo.
I consider nut butters to be a condiment. I use almond butter and cashew butter in tons of recipes and have a bigger collection of nut butters than I'd like to admit. Costco (Kirkland Brand) offers an excellent almond butter. Best part is that it doesn't contain any ingredients except almonds and salt. Doesn't get better than that!
Fermented foods are some of the best things to feed your gut. Things like sauerkraut, kombucha, and even kimchi are now available at Costco. I always have a tub of Wildbrine kraut in our fridge. I can eat the stuff by the spoonful but also love adding it onto salads, on top of grilled meats, or mixed into spicy potato salad. It doesn't go bad for ages (because it's technically already "gone bad.") and is a really high-quality option with no added sugar or sweeteners.
Snacks
Ah snacks. What would we do without the snack section at Costco? We always have a solid rotation of snacks on deck at home.
First, and most importantly, Made in Nature brand dried mango is mandatory in my cart. This dried mango has only one ingredient; mango. It's a perfect snack on the go, on a hike, or plopped in front of a Netflix binge. A giant bag is $16.99 and will (hopefully) last you quite some time. A secret hack for picking the best bag is to pick a bag with a little puff in the bag. I have found the flattened bags can sometimes yield mango that's too dry.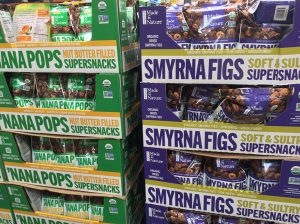 There are several Made in Nature brand items at Costco that I like. They don't add sugar to their products and are usually Paleo. Check out their dried figs, or energy balls for easy snacks to pack for lunches or on the road.
Costco now carries a 20 pack of Perfect Bars in three flavors. I personally don't do well with legumes so I don't buy this pack (it has a lot of peanuts) but it's a good price if you can handle the ingredients. Perfect Bars are one of the only bars that are consistently on my grocery list. They're filling enough to get me through the morning but not so heavy that I feel like I digested a brick.
Nuts are also a great thing to buy at Costco. I often snag big bins of cashews and almonds there. Make sure you check your labels though. Some of them have ingredients like sugar or peanut oil (why though?!).
Pancakes aren't necessarily under the snack category, but I don't hate the idea. You can buy a jumbo bag of Birch Benders Paleo Pancakes at Costco now. These pancakes don't have any sugar and are free from chemicals, gluten, dairy, and additives. One bag of this mix will likely last you months and months.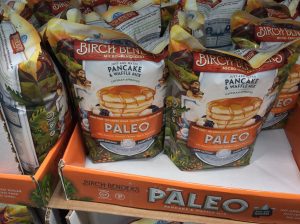 Randoms
Be sure to browse your neighborhood Costco from time to time instead of going straight for your list items. Costco is always adding new products to their lineup. Josh is obsessed with what I call "Dad pants" from Costco.He has them in three colors. I've also been known to grab a set of insulated coffee tumblers, pool towels, sunscreen and plants at Costco for a fraction of other retail prices.
This post wouldn't be complete without noting that Costco offers steep discounts on booze too. I am unapologetically a boxed wine kind of gal (though I'm trying more organic wines these days). A box of Black Box wine (my fave) is just $18.99, compared to $21.99 or more at other liquor stores. They also offer free tastings pretty regularly so you can try before you buy. Another secret about Costco liquor is that you don't have to be a member to access these low prices. Anyone can purchase alcohol from Costco.
Did you know that Costco also has discounted services available to their members? You can rent a car through the Costco website at a steep discount and free cancellation. Costco has the best price on tires for your whip and tickets for cruises (or as I like to call them, floating Walmart). They also offer optical and audiology exams and you can snag some hearing aids or glasses with a steep discount. Gas is always at least 20 cents cheaper at Costco. There are literally hundreds of things Costco offers besides food. Check out their website to learn more about all that's available to their members.