It's that time of year! The sun is shining, the smell of freshly cut grass is all around, and the BBQ season is upon us. Spring and Summer are filled with lots of parties centered around food (the best kind of party, right?!) Mother's Day, Father's Day, Fourth of July, Memorial Day and Labor Day are all coming up!
I was recently invited to a BBQ and was asked to bring an appetizer. As a blogger in the food realm, people sometimes assume you're going to bring something unique and gourmet. Problem is, when you work on recipes as your side hustle, sometimes all you want to do is make something simple. So, I went to my old-faithful, deviled eggs. Deviled eggs are easy to make and are a crowd pleaser. So there I went with eggs in hand and when I arrived at the BBQ two other people had brought deviled eggs and all of the other appetizers involved chips and dips of various kinds. It would appear that simple was on everyone else's mind too.
After the party, my food blogger gears were kicked into overdrive and started dreaming up a healthy and tasty appetizer to please the masses the same way deviled eggs do.
You may have noticed that cauliflower is insanely trendy right now. Cauliflower has basically replaced all of the most delicious carbs in the health world and has been showing up on every restaurant menu. From cauli-rice to cauli-pizza and even cauli-ice cream (yes, that's real) it's literally taking over! While I'm not hating on the cauli-everything trend, I think cauliflower in its original form is pretty darn tasty too.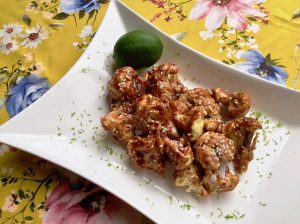 I have had buffalo cauliflower bites before and liked those, but I wanted to mix things up a bit to make a sweet and spicy version of the popular snack without any added junk and without deep frying them. I also wanted to mix up the traditional BBQ type fare and throw some asian flair into the mix. I tested several sauces before I landed on this one as a hands down favorite. I tried a peanut sauce, yellow curry, and even a sweeter side with cinnamon and clove (that was a solid NO).
I went back to the drawing board and thought about what flavors I like most but also something that wasn't so off the wall that it would be off-putting to less adventurous foodies. Almost any chance I get to make something with Thai flavors I jump on the opportunity. I started pulling spices and condiments out of my fridge and came up with something pretty damn good.
So the next time you are called upon to fire up an appetizer or snack, you can whip these up in a jiffy! If you don't have all the same brands for the sauces that is totally fine!
You can play with the flavors all you want. A friend of mine said she loved the idea but couldn't handle spice. So, you can skip the chili paste and sub garlic only. Or, if you are vegetarian or vegan, skip the fish sauce and add a dash of salt or soy sauce instead. I love this recipe as it is (obviously, that is why I'm posting it) but make it your own!
You can serve these suckers up with a simple dipping sauce like spicy ranch or peanut sauce, or enjoy them straight up! Everyone at book club, Summer BBQ or birthday bash will surely think you're the coolest kid in town!
Sweet Thai Chili Cauliflower Bites
Meal type: appetizer, side dish, Whole30, Paleo
Prep time:15 minutes Total time: 1 hour
Ingredients for the Cauliflower Bites:
-2 cups cauliflower roughly broken up
-2 egg whites
-¼ teaspoon ground mustard
-¼ teaspoon salt
-¼ teaspoon granulated garlic
-3 tablespoons arrowroot powder
Ingredients for the Sweet Thai Chili Glaze: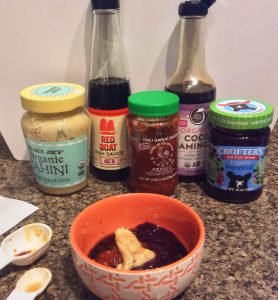 -2 tablespoons no sugar added mixed berry jelly (I like Crofters)
-1 teaspoon Thai chili garlic paste (sub crushed garlic if you don't like things spicy or add another teaspoon if you like your food fiery!)
-½ teaspoon fish sauce (I like Red Boat)
-1 tablespoon coconut aminos
-⅔ teaspoon lime juice
-½ tablespoon tahini
-1 tablespoon sesame seeds
-½ tablespoon lime zest
Directions:
Preheat oven to 400 degrees. Wash and thoroughly dry cauliflower. Prepare baking sheet with foil or parchment paper and an oiled wire rack. Whip egg whites using a stand mixer or hand mixer until frothy (about 2 minutes). Gently fold in the arrowroot powder, garlic, salt, and mustard being careful not to deflate the egg mixture. Add cauliflower to mixture and toss to coat. Place coated cauliflower on oiled wire rack making sure they don't touch. Bake for 35 minutes (or until browned but not burnt on top) turning pan occasionally.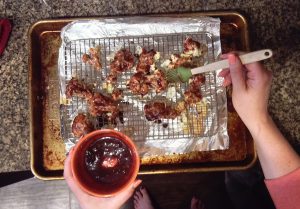 While the cauliflower bakes, combine all ingredients for glaze in a small bowl with a fork or fine whisk. Remove cauliflower from the oven and immediately lift and replace bites from the wire rack using tongs or a fork so they don't stick as they cool. Using a pastry brush, brush all edges of cauliflower with glaze (If you don't have a pastry brush, just toss them in the sauce or spoon over the cauliflower). Plate and top with sesame seeds and lime zest. Enjoy!
**Note: where to find some of the ingredients listed above for the best price:
-No sugar added jelly is from Natural Grocers. They also carry this brand at Whole Foods and Sprouts.
-Red Boat Fish Sauce is from Thrive Market. They also carry it at Whole Foods. It's one of the only gluten-free versions out there
-Tahini is from Trader Joe's. Thrive Market also has a good price on theirs.
-Chili paste is from Sprouts. It can be found in most grocery stores in the Asian foods section.
-Coconut aminos are from Thrive Market. They carry them at almost any store including Costco.
-Arrowroot powder is from Thrive Market. You can also find it at Sprouts, Whole Foods, Amazon, and Natural Grocers. Arrowroot is similar to cornstarch but is derived from potatoes, not corn.