I consider myself somewhat of an ice cream connoisseur. I fancy myself a bit of an ice cream snob when it comes to indulging in the creamy good stuff. Healthy ice cream has taken the world by storm these past few years. I like crazy flavors like lavender and lemon, strawberry balsamic, and even buttered popcorn and peanut butter. Hey! Don't knock it until you try it ok?  
At the same time, I am not too proud to appreciate a really good vanilla or chocolate cone. There's something about nailing the basic flavors that makes me really appreciate a brand or an ice cream shop.
This week in Denver it is going to be over 100 degrees everyday. I find it funny that inevitably, someone that has never been to Denver will likely say "what?! I thought it was always snowy there!" Summers in the Denver area can be unbearable. In fact, today we hit a record temperature for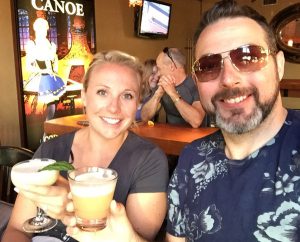 June which was well over the 100 degree mark.
All of this heat has me eating less during the day and craving a cold sweet treat at night. I am all about enjoying the good things in life. Chocolate, wine, ice cream, andthe occasional crusty piece of bread and butter. However, for my own health goals, these are not things I can include in my daily intake. Healthy ice cream however, that I make in my own kitchen I can get on board with.
It was said by both Oscar Wilde, and my mom, that the best approach is "all things in moderation, including moderation."
You have probably noticed that almost every ice cream brand on the shelves has jumped on the healthy ice cream bandwagon. I have a whole blog post about this concept that you can read here if you're interested. I won't dive too deep off of that cliff but I will say that labeling an ice cream as "healthy ice cream" by adding gums, artificial sweeteners, and other chemicals is bonkers. The healthy ice cream label has somehow given people permission to eat it without ever putting on the brakes.
While I'm not ever opposed to digging into the real stuff (ya know, with cream and sugar) I wanted to create an ice cream recipe that would still incorporate some nutrient-dense foods without sacrificing taste. So yes, this is a version of healthy ice cream, but that does not mean that I will eat it everyday (though I don't blame you if you do!)
I have a handful of food sensitivities that include dairy, gluten, and artificial sugar. Since many of my readers share the same profile, I took on the challenge of creating a dessert that would appeal to both regular ice cream eaters and those that have eliminated some of the traditional ingredients from their diets.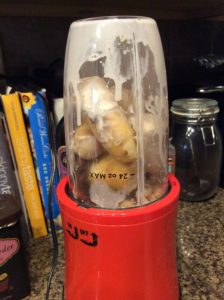 The challenge of picking a flavor proved to be a heft task so I took it to my Instagram page. Many of my followers to send me their favorite ice cream flavors with the promise of delivering a popular flavor in an at-home recipe that doesn't require an ice cream machine. I did preface the request by calling this recipe development a "healthy ice cream" project, but people did not hold back!
I got all kinds of answers from strawberry rhubarb and granola (woah!) to butter brickle (from my lovely husband). But, the most overwhelming answers out there were for chocolate with the second most common request being for something fruity. I decided to combine those two worlds and create what turned out to quite possibly be my favorite ice cream ever.
I'm hesitant  to toot my own horn, but I have to say that I NAILED it on this one, folks. After several trials, I found a magical way to make a creamy, chocolatey, not-too-sweet, refreshing healthy ice cream without adding any cane sugar or syrups, dairy, gluten, or gums. No, this is absolutely not the real deal, but if you're looking to swap out your regular sweet treat for something a little less decadent, this is your recipe!
It's no lie when I say that you do not need an ice cream machine to make this stuff! Unluckily, I am the owner of what is quite possibly the worst performing blender on the planet and I still managed to yield a creamy treat in a jiffy. I really hope you enjoy it as much as I do!
Dark Chocolate and Candied Orange Ice "Cream"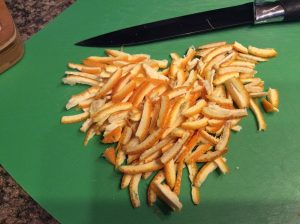 Type: dessert, paleo, dairy-free, gluten-free
Prep time: 25 minutes Total time: 2 hours
Candied oranges:
The peel of one large orange

½ cup coconut sugar (any sugar will work, but I like coconut)

½ cup water
Directions: Remove peel from orange and slice into thin strips (about ½ inch long) or finely chopped pieces. Combine orange peel, water, and sugar in a small saucepan and bring to a boil. Reduce to a simmer and allow to simmer for 10 minutes. Using the back of a spoon or a spatula to press down, strain orange slices until no liquid remains in a colander or sieve. Place orange slices on a parchment-lined baking sheet and bake at 225 degrees for 40 minutes. When the 40 minutes is up, turn the oven off and leave orange slices in the oven for an additional 30 minutes. Remove from oven and break up any clumps that may have formed. Reserve on the counter until ice cream is made.
Dark Chocolate Orange Ice "Cream"
2 frozen bananas

¼ cup soaked cashews

2 dates softened

Pinch of sea salt

~2 tablespoons milk or milk alternative of your choice as needed for consistency (I used

Nutpods

, of course) 

3 tablespoons good quality unsweetened cocoa powder

2 drops orange essential oil or ⅛ teaspoon orange extract *Optional*

Candied orange slices
Directions: Soak cashews and dates overnight or for 8 hours. Or, if you're like me and forget to do that, pour hot water over them in a cup and let sit for 1 hour. Peel and roughly chop or break  frozen bananas(**see banana hack below).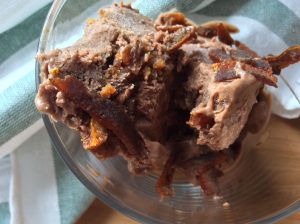 Combine bananas, cashews, dates, and milk in a high powered blender or food processor until smooth or about 2-3 minutes (it should be the consistency of thick ice cream). Using a spatula, push down any mixture from the sides as needed. Add cocoa powder and salt then blend again. Stir in desired amount of candied orange (I recommend ½ cup) and top with extra orange.
This recipe is best served immediately, but you can also store this in an airtight container for up to a week, if it'll even last that long in your household!
**Banana hack: You do NOT actually have to pre-cut your bananas to freeze them. You can toss whole bananas into the freezer and run under warm water when you're ready to peel. You can skip all the prep and still get delicious healthy ice cream.