In the recent past, I have read several articles that have deemed meal prep to be an "elitist" activity. While I recognize Maslow's hierarchy of needs makes no mention of meal prep, I think it's safe to say "elitist" is a tad dramatic. Meal prep, as it is defined, is the act of preparing food for consumpti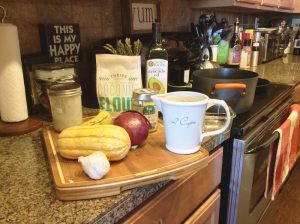 on. The end. There is no contract that binds us to cooking organic vegetables with grass-fed meats and exceptional healthy fats. There is also no direction that says meal prep has to cost hundreds of dollars and take up your entire Sunday. For me, it's all about efficiency and creating time for myself during the work week to relax and do other things. Since I am often asked about how I meal prep, I have created some general guidelines for keeping meal prep efficient and cost-effective.
Use a Meal Template
Start with a template, but not a plan. Gasp! I know. This one stresses some people out that thrive on writing out a plan and sticking to it. However, I'd suggest that you go to the store with a game plan, rather than a menu. I generally prep 4-5 lunches and 2-3 breakfasts for the week. Breakfast is usually either hard boiled eggs and fruit, a bar (Perfect Bars are my current fave), or chia pudding if I plan to eat at my desk or in the car. Other days, I wake up early enough to cook breakfast at home so I don't need to have a grab-and-go option ready.
Lunch, however  is a little more diverse and requires a little more prep since I work in education and don't have time to run out and get something to eat all the time. Packing lunches at home saves a ton of money, too! I generally spend under $50 a week on meal prep groceries for lunch and breakfast. I don't often meal prep dinners, but I do like to keep cut up veggies in the fridge as well as a variety of meats that can be thawed quickly or cooked frozen in my pressure cooker.
I usually prep two different meals for lunches with 2-4 servings of each depending on what it is. Here is my template for work week lunches:
| | | |
| --- | --- | --- |
| | MEAL ONE | MEAL TWO |
| PROTEIN | | |
| VEGETABLE | | |
| HEALTHY FAT | | |
| SAUCE/GARNISH | | |
Cook What's in Season
I go in with my template and rough ideas based on what's in season. This is huge! If you want to make pork tenderloin with dark cherries but it's November, you can go ahead and plan to pay top dollar for those out-of-season cherries. Not to mention the extra dose of preservatives you'll like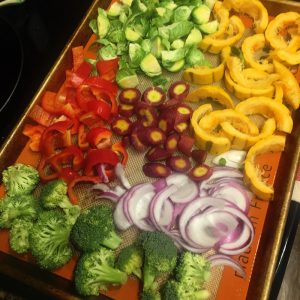 ly consume. Eww. If you're unsure, you can find lots of charts that show what is in season on Google and Pinterest.
Be Flexible & Look for Sales
Being flexible is a great way to save some money as well. If I plan to make chicken with green beans, but brussels sprouts are on sale, you can betcha bottom dollar I'm getting the sprouts. I also generally lead with the idea of my sauce/flavor profile in mind first and foremost.  For example, if I know I want to make a curry I know I can choose chicken or shrimp for my protein and any of about a billion vegetables.
Try Some One-Pot or One-Pan Meals
Unless I'm taking dinner leftovers for lunch, I aim to have one dish that has protein, fat, and vegetables as opposed to a protein and side dishes. This makes meal prep faster and fewer dishes to do in the end. Sheet pan meals and Instant Pot creations are clutch here. To each their own on that front. There is nothing wrong with making a main dish and sides if that's your jam. By figuring out what works best for you and will keep you satisfied, you're more likely to stick to prepped meals and out of the drive thru.
Make More Than you Need
One other recommendation that you will thank yourself for doing later is making 1-2 extra servings of items that freeze well like stews, soups, curries, and stir frys and tossing them in a freezer-friendly bag in single portions. This weekend I was out of town and did not want to meal prep late Sunday night. Luckily, I went into our deep freezer and found cuban lettuce wrap filling, cajun chicken spaghetti squash and creamy vegetable soup! All I had to do is grab the bags and let them thaw before putting them into glass tupperware for reheating at work.
Here are some examples
So, now you're armed with all the tips you need to efficiently meal prep and save some cash. In case you're not feeling as ready with an actual outline of what to make, I'll include some examples of meal templates I've used in the past to make food for the week.
| | | |
| --- | --- | --- |
| | MEAL ONE (Chicken stir fry) | MEAL TWO (Paleo chili) |
| PROTEIN | Chicken breasts (cheaper than tenders) | Ground beef |
| VEGETABLE | Frozen organic asian veggie blend | Tomatoes (canned),Zucchini, butternut squash, and carrots |
| HEALTHY FAT | Almond dressing and slivered almonds | Avocado |
| SAUCE/GARNISH/SEASON | Homemade spicy almond butter dressing (coconut aminos, chili, and almond butter) | Crushed tomatoes, cumin, white pepper, cayenne |
| | | |
| --- | --- | --- |
| | MEAL ONE (sheet pan lunch) | MEAL TWO (Spicy Kale soup) |
| PROTEIN | Turkey Kielbasa | Ground chorizo |
| VEGETABLE | Any leftover (delicata, carrots, sprouts, potatoes) | Kale, red pepper, potato |
| HEALTHY FAT | Blender ranch for dressing + avocado oil | Coconut milk |
| SAUCE/GARNISH/SEASON | Salt, pepper, thyme, and rosemary | Bone broth, salt, pepper, and bay leaf |
| | | |
| --- | --- | --- |
| | MEAL ONE (Buffalo chicken salad) | MEAL TWO (Eggroll in a bowl) |
| PROTEIN | Canned chicken | Ground pork |
| VEGETABLE | Salad greens, carrot, cucumber, red onion | Coleslaw mix and green onion |
| HEALTHY FAT | Blender ranch dressing, olive oil, and mayo | Homemade spicy mayo |
| SAUCE/GARNISH/SEASON | Frank's Red Hot sauce, olive oil for marinating onions, blender mayo for chicken salad | Coconut aminos, sesame oil, sesame seeds, ginger, white pepper, chili paste |